I missed last night's demonstration by Debbie Brown coz I was too tired... When I came to class today, this is what I found!
Daffy Duck! I regret I allowed my tired-ness to stop me from attending her demo! :(
--------------------------------------
Anyway, the class started by finishing up the Baby Ballerina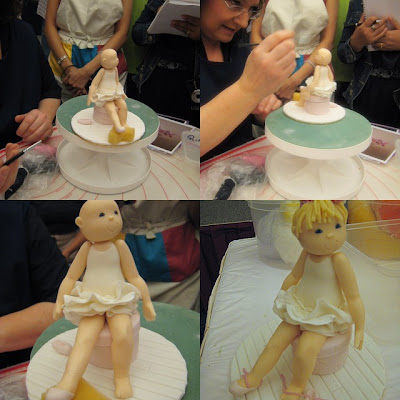 Debbie Brown painting her eye & adding on her hair.


I'm not the only one who's crazy about her work! :) All of us are always trying to find the perfect spot to capture her work


Then we started on our 2nd project... princess barbie....


DB's perfectly shaped head & nose


Samples of my new friend's artwork :)
Not missing out on opportunity to take snapshots with Debbie Brown


This is none other than Rosalind, another guru working on her own masterpiece. Instead of princess, she did a bride. Her artwork is really really nice!


Amazing-eh? When oh when will I be of that level? *sigh*


Another chance for a standing snapshot!
My final product of princess
& baby ballerina
Today was very tiring. We had a lot to do. First we rushed to finish our baby ballerina, then we started on our princess. We were supposed to finish at 5pm so that we have 2 hours of rest before our demo class at 7pm. But because we completed our princess at about 6.45pm, we have no time left to rest! So we continued on....


The result of our demo - fairy prince & princess. So delicate....
My perspective of sugarart has changed 360 degrees since I attended this course. Debbie is so detailed & thorough! I nearly couldnt make it for this course. I'm glad, I made it :)